ASTM E2614-15
Standard Guide for Evaluation of Cleanroom Disinfectants
Automaticky preložený názov:
Štandardné Príručka pre hodnotenie Cleanroom Dezinfekčné prostriedky

NORMA vydaná dňa 1.5.2015
Informácie o norme:
Označenie normy: ASTM E2614-15
Dátum vydania normy: 1.5.2015
Kód tovaru: NS-610691
Počet strán: 5
Približná hmotnosť: 15 g (0.03 libier)
Krajina: Americká technická norma
Kategória: Technické normy ASTM

Kategórie - podobné normy:
Anotácia textu normy ASTM E2614-15 :
Keywords:
carrier tests, cleanroom, disinfectant, disinfectant qualification, efficacy, in situ testing, suspension tests,, ICS Number Code 13.040.35 (Cleanrooms and associated controlled environments)
Doplňujúce informácie
Significance and Use
5.1 Requirements for aseptic processing areas include readily cleanable floors, walls, and ceilings that have smooth, non-porous surfaces; particle, temperature, and humidity controls; and cleaning and disinfecting procedures to produce and maintain aseptic conditions. These controls, combined with careful and thorough evaluation of the chemical agents used for the cleaning and disinfection program, should lead to achieving the specified cleanliness standards and control of microbial contamination of products. Qualification of disinfectants in pharmaceutical, biotechnology, medical device facilities, and associated controlled environments, along with validation of the cleaning and disinfection process, is subject to scrutiny by regulatory agencies.
5.2 An effective cleaning and disinfection program in aseptic processing areas of a Good Manufacturing Practice (GMP) - regulated facility is critical to assure product quality. Manufacturers are held to a high standard when it comes to product sterility, and regulatory agencies increasingly request validation data to support sanitization and disinfection procedures. Regulatory authorities expect evidence of the effectiveness of disinfection agents against environmental microorganisms isolated from the facility. The FDA Guideline for Aseptic Processing states, "The suitability, efficacy, and limitations of disinfecting agents and procedures should be assessed. The effectiveness of these disinfectants and procedures should be measured by their ability to ensure that potential contaminants are adequately removed from surfaces."5.3 Basic knowledge regarding the effectiveness of different chemical agents against vegetative bacteria, fungi, and spores will aid in selecting chemical agents.
5.4 An understanding of test methods used to assess disinfectant effectiveness is important. Most methods are adaptable, allowing the user to customize the methods to their specific requirements.
1. Scope
1.1 This guide identifies important factors to consider when selecting a disinfectant for use in a cleanroom or similar controlled environment and recommends test methods suitable for evaluating disinfectants. The proper selection of disinfecting agent combined with qualification testing is a key element of a successful disinfection program. Regulatory guidance such as United States Pharmacopoeia Chapter <1072>, "Disinfectants and Antiseptics" and the FDA Guidance for Industry, "Sterile Drug Products Produced by Aseptic Processing–Current Good Manufacturing Practice" address the necessity of disinfectant effectiveness testing but do not clearly define acceptable test methods.
1.2 An understanding of microbiology and microbiological techniques is essential. Knowledge in the following areas is recommended: microorganisms, antimicrobial products (disinfectants, sporicides, and decontamination agents), the chemistry of disinfection, mechanism of activity of disinfectants on cells, application procedures, cleanroom surfaces, and environmental conditions within a cleanroom. This information is available in several published texts listed in the bibliography.
1.3 The theoretical basis for disinfectant activity is not addressed in this guide. An understanding of the effect of disinfectant concentration on microbial reduction (concentration exponent) and kinetics is desirable in determining the use-dilution of different disinfectants and in using dilution to neutralize a disinfectant for efficacy testing. USP chapter <1072> provides further information on this topic.
1.4 This guide is written for the cleanroom environment, although many of the principles outlined in this standard are applicable to manufacturing and processing environments outside of the cleanroom.
1.5 Evaluation of disinfectants for biofilm control is outside the scope of this document.
2. Referenced Documents
| | |
| --- | --- |
| | Quantitative Carrier Test Method to Evaluate the Bactericidal, Fungicidal, Mycobactericidal, and Sporicidal Potencies of Liquid Chemicals |
| | Guide for Assessment of Antimicrobial Activity Using a Time-Kill Procedure |
| | Quantitative Disk Carrier Test Method for Determining Bactericidal, Virucidal, Fungicidal, Mycobactericidal, and Sporicidal Activities of Chemicals |
Podobné normy: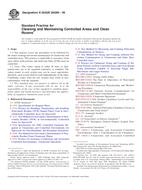 ASTM E2042/E2042M-09..
Historická
1.4.2009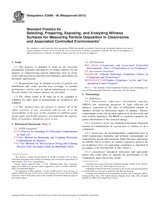 ASTM E2088-06(2015)..
1.5.2015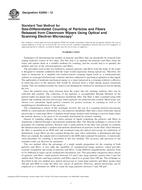 ASTM E2090-12
1.4.2012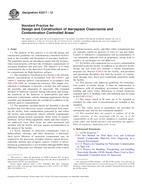 ASTM E2217-12
1.4.2012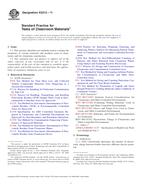 ASTM E2312-11
Historická
1.1.2011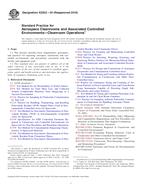 ASTM E2352-04(2010)..
Historická
1.4.2010
Odporúčame:

Aktualizácia technických noriem
Chcete mať istotu, že používate len platné technické normy?
Ponúkame Vám riešenie, ktoré Vám zaistí mesačný prehľad o aktuálnosti noriem, ktoré používate.

Chcete vedieť viac informácií ? Pozrite sa na túto stránku.
Posledná aktualizácia: 2019-12-05 (Počet položiek: 2 346 049)
© Copyright 2019 NORMSERVIS s.r.o.