ASTM E2755-15
Standard Test Method for Determining the Bacteria-Eliminating Effectiveness of Healthcare Personnel Hand Rub Formulations Using Hands of Adults
Automaticky preložený názov:
Štandardná skúšobná metóda pre stanovenie Baktérie - Eliminácia efektivity zdravotníckeho personálu na ruky formulácií Použitie Ruky Dospelí

NORMA vydaná dňa 15.5.2015
Informácie o norme:
Označenie normy: ASTM E2755-15
Dátum vydania normy: 15.5.2015
Kód tovaru: NS-609007
Počet strán: 7
Približná hmotnosť: 21 g (0.05 libier)
Krajina: Americká technická norma
Kategória: Technické normy ASTM

Anotácia textu normy ASTM E2755-15 :
Keywords:
alcohol-based hand rub, alcohol foam, antimicrobial, antiseptic wipe, contaminant, efficacy, hand antiseptic, hand sanitizer, healthcare personnel handrub, Serratia marcescens, Staphylococcus aureus,, ICS Number Code 11.080.20 (Disinfectants and antiseptics), 71.100.35 (Chemicals for industrial and domestic desinfection purposes)
Doplňujúce informácie
Significance and Use
5.1 Hand hygiene is considered one of the most important measures for preventing the spread of infectious microorganisms. Hand rubs reduce the microbial load on the hands without the use of soap and water, and are thus an important tool in the practice of good hand hygiene. Alcohol-based hand rubs are recommended in healthcare settings for use on hands that are not visibly soiled. They are formulated to be applied full strength to dry hands, "rubbed in" until dry, and are not rinsed off.
5.2 This test method is designed specifically to evaluate hand rubs for efficacy in eliminating bacteria from experimentally-contaminated hands. It is designed as an alternative to Test Method E1174, which was intended primarily to evaluate antimicrobial handwashing agents that are lathered with the aid of water and then rinsed off. When using Test Method E1174 to evaluate hand rubs, inadequate drying of the hands after contamination dilutes the test material and can compromise activity, to result in an underestimation of effectiveness. Additionally, because hand rubs are not rinsed after product use, activity can be further degraded by build-up of soil from the contaminating broth and inactivated challenge bacteria on the hands.
5.2.1 In this method, application to the hands of a small volume of high-titer test bacteria suspension minimizes soil load such that the skin is completely dry prior to application of the test material. Further, by applying the bacterial suspension only prior to those test material application cycles followed by sampling, excessive buildup of killed bacteria on the hands is avoided, and the potential impact of non-volatile test product ingredients on bacteria-eliminating effectiveness after ten consecutive applications can be specifically assessed.
5.3 A reference control is evaluated for each subject prior to evaluation of the test material. Data from the reference control helps to control for inter-subject variability, inter-experimental variability, and inter-laboratory variability; and enables improved statistical comparison of test materials evaluated in the same experiment.
5.4 This test method can be used to test any form of hand rubs, including gels, rinses, sprays, foams, and wipes when used according to label directions at typical "in-use" doses.
5.5 Susceptibility to biocides can vary among different species of bacteria and major differences have been noted between gram-negative and gram-positive organisms. This test method provides the option to use either a gram-negative bacterium (5.6 This test method may be used as an alternative to Test Method E2276, which limits the test bacteria to the fingerpads and does not incorporate actual use conditions such as friction during hand rubbing.
5.7 The investigator should be aware of potential health risks associated with the use of these organisms and precautions similar to those referenced in Section 8 should be taken.
1. Scope
1.1 This test method is designed to determine the activity of healthcare personnel hand rubs, (also known as hand rubs, hygienic hand rubs, hand sanitizers, or hand antiseptics) against transient microbial skin flora on the hands after a single application and after repeated applications.
1.2 Performance of this procedure requires the knowledge of regulations pertaining to the protection of human subjects (see 21 CFR Parts 50 and 56).
1.3 This test method should be performed by persons with training in microbiology, in facilities designed and equipped for work with potentially infectious agents at biosafety level 2.1.4 Units—The values stated in SI units are to be regarded as standard. No other units of measurement are included in this standard.
1.5 This standard does not purport to address all of the safety concerns, if any, associated with its use. It is the responsibility of the user of this standard to establish appropriate safety and health practices and determine the applicability of regulatory limitations prior to use. For more specific precautionary statements, see 8.2.
2. Referenced Documents
| | |
| --- | --- |
| | Test Methods for Evaluation of Inactivators of Antimicrobial Agents |
| | Test Method for Determining the Bacteria-Eliminating Effectiveness of Hygienic Handwash and Handrub Agents Using the Fingerpads of Adults |
| | Test Method for Evaluation of the Effectiveness of Health Care Personnel Handwash Formulations |
| | Terminology Relating to Antimicrobial and Antiviral Agents |
Podobné normy: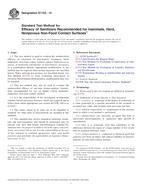 ASTM E1153-14
1.4.2014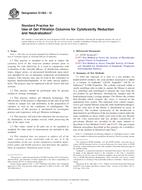 ASTM E1482-12
Historická
1.10.2012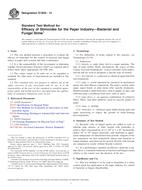 ASTM E1839-13
1.4.2013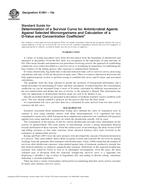 ASTM E1891-10a
Historická
1.10.2010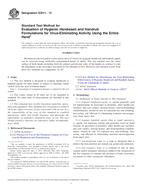 ASTM E2011-13
1.4.2013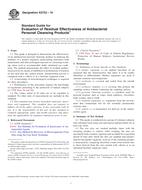 ASTM E2752-10
Historická
1.4.2010
Odporúčame:

Aktualizácia technických noriem
Chcete mať istotu, že používate len platné technické normy?
Ponúkame Vám riešenie, ktoré Vám zaistí mesačný prehľad o aktuálnosti noriem, ktoré používate.

Chcete vedieť viac informácií ? Pozrite sa na túto stránku.
Posledná aktualizácia: 2019-12-05 (Počet položiek: 2 346 049)
© Copyright 2019 NORMSERVIS s.r.o.